Sealing elements
Linking porous structures made from knit wire mesh to having a sealing function may at first appear to be contradictory – not for us.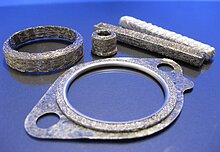 ASW-Karg Wire Technology produces filled basic knit meshes and press pads / seal rings for virtually all industrial applications - accurate to drawings.
Knit wire meshes and fillers (mica, graphite, PTFE ...) combine in this delivery segment to produce flexible, static sealing components.
Dedicated tooling and mould making guarantees the shortest design and sampling times for our customers.
Back