Wire braids from ASW-Karg Wire Technology
Industrial metal braids are semifinished and finished components that are very much in demand in virtually all sectors of industry. They perform conducting, support and protective functions in units, machines, systems and buildings or, depending on the material used, are also used as ornamental and decorative elements.
In cable and piping technology in particular, they are used as an indispensable "stand alone solution" or as a flexible layer unit offering outstanding electromagnetic screening properties in large volumes. In automotive engineering, they are among other things elements used in decoupler assemblies in the exhaust gas system which are subjected to high temperatures. They act as compensation elements for thermal stresses which occur.
ASW-Karg Wire Technology currently produces the commercial forms of wooden braids and tubular braids in an average format range with a nominal diameter of 3 - 100 mm. The bases used for manufacturing are in-house standards or processing of supplied parts in accordance with a specification which is agreed with the customer.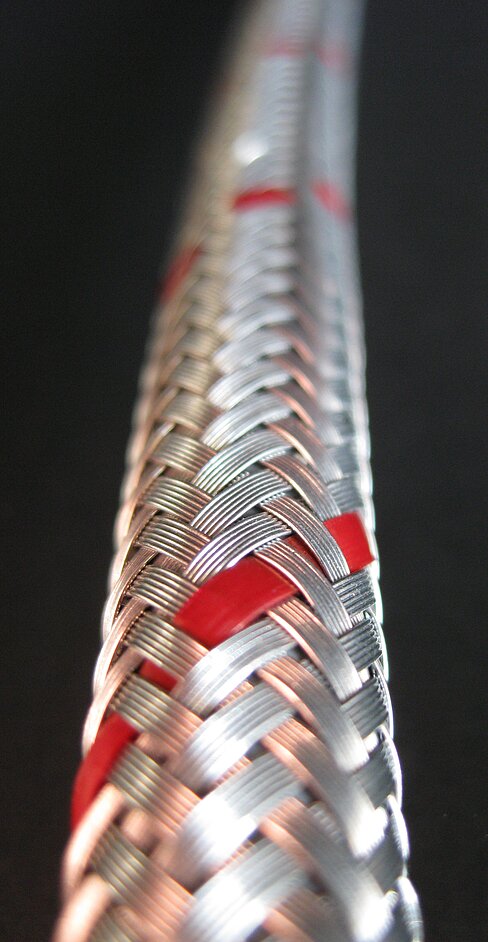 Back
Technical data
Wire qualities:
Copper blank, copper galvanised, steel blank, steel galvanised, stainless steels, phosphor bronze, plastic, polyester yarns, special materials
Wire thicknesses: standard 0.15 - 0.50 mm 
Wire number:  3 - 12 x
Toggle numbers:  24, 36, 48
Diameter of braid material:  3 - 100 mm
Delivery forms:
Fixed length, collar rings at 25 running metres (with braiding via carrier tube), coiled goods based on possible document length, sections